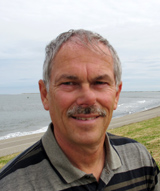 Hi! Welcome at my kayak site. My name is Johan. One of my hobbies is kayaking. I like to explore new places where you can kayak. I also like photography and working on websites. So the result is a website about where you can kayak and lots of photo's on it.

This is a personal page about touristic kayaking. So no information about white water or sea kayaking.
You can read where to kayak in the Netherlands and you can also find information about some places in other countries where I've been. I like to share the information I gathered over the years. It is not a coverage of all the places where you can kayak, there's still a lot to explore. So every year I write updates and I still add new pages to the site.

I hope you will enjoy it and that it may inspire you to take your kayak to the water.
If you may find something incorrect in the described routes, or if you have any suggestions, please let me know. Then I can make corrections so other people can benefit from it.
This site is copyright protected. If you are interested in using anything from this site, please contact me.
Expected precipitation for the next 3 hours
kanokaart.nl. A map of the Netherlands with kayak related information.
Information about the weather on weeronline.nl.
Images and info about the weather on Meteotines.
TKBN Touristic kayak club of the Netherlands.
Air BNB Find a place to stay overnight.
GPS Coordinates for calculation between Ddmmss and DDmmmm (decimal minutes).
Routeradar Up-to-date traffic information.
The Naked Kayaker Here you find a map with kayak rentals.

I don't rent out kayaks myself!
Just to be clear: I only share information about where to kayak. If there is a kayak rental, it is mentioned on the page. You have to contact the kayak-rental yourself, I'm not a middleman.
News:
December 2017

Like last year I made a walking tour along the Lightfestifal of Amsterdam. I could try out my new camera, a Fujifilm X-T2. It seems this camera is way better than the Fujifilm X30 that I used before. It's a little bigger and heavier too, so I have to think of a way to carry it with me in the kayak. At the top of this page you can see the photo I made at the Amstel: 'The whole hole' by Vendel and De Wolf.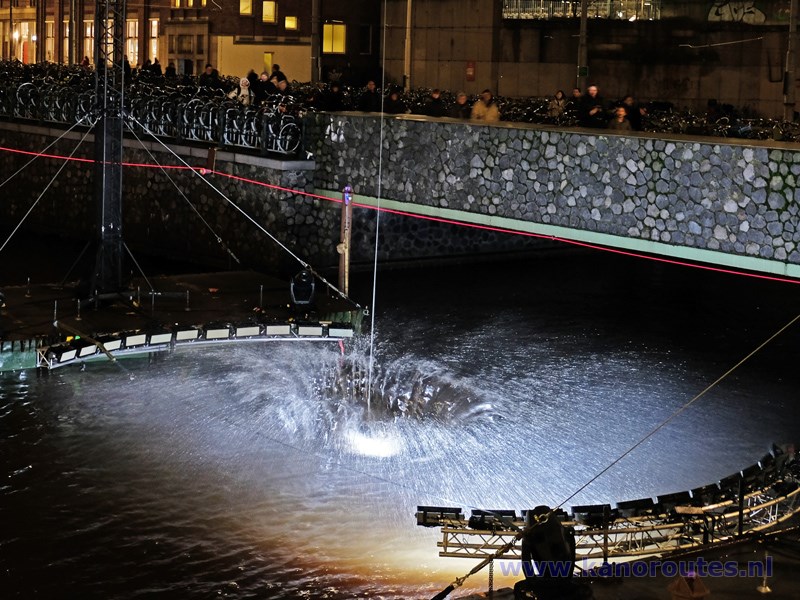 "Make a splash" by Floriaan Ganzevoort (NL).
A lighted ball is dropped into the water accompanied by light effects.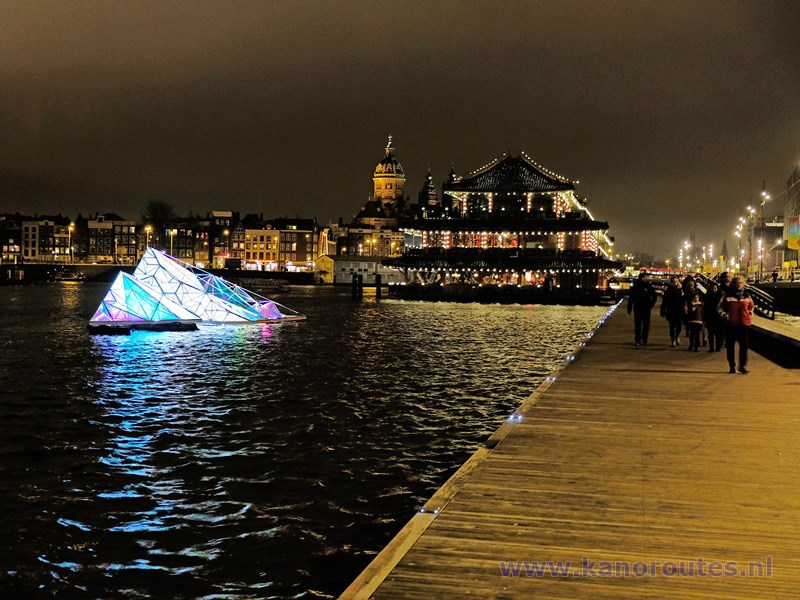 "Infinita" by Balmond Studio (UK).
Based on a fractal, a repeating pyramid shaped structure.
When I saw this I thought it was unfinished, as several panels seemed to be missing. But being a fractal I was probably right. The real fractal continues where the artist has stopped...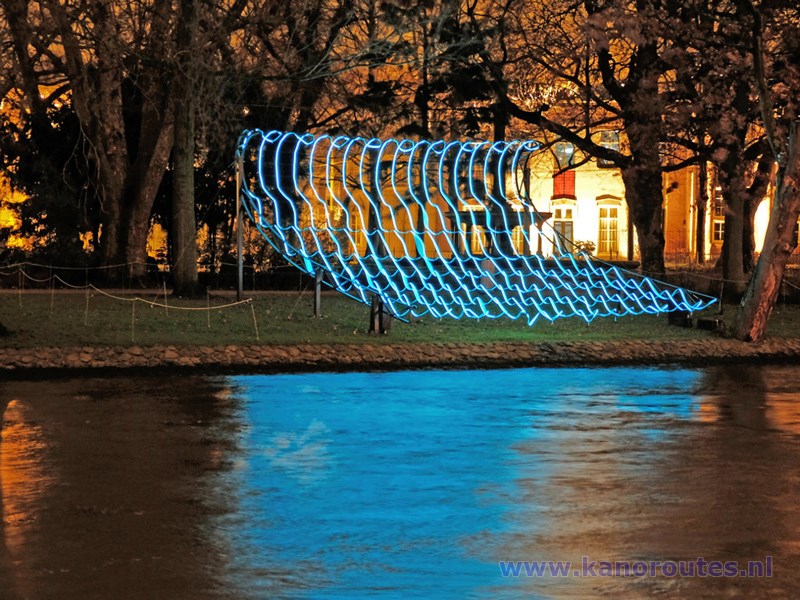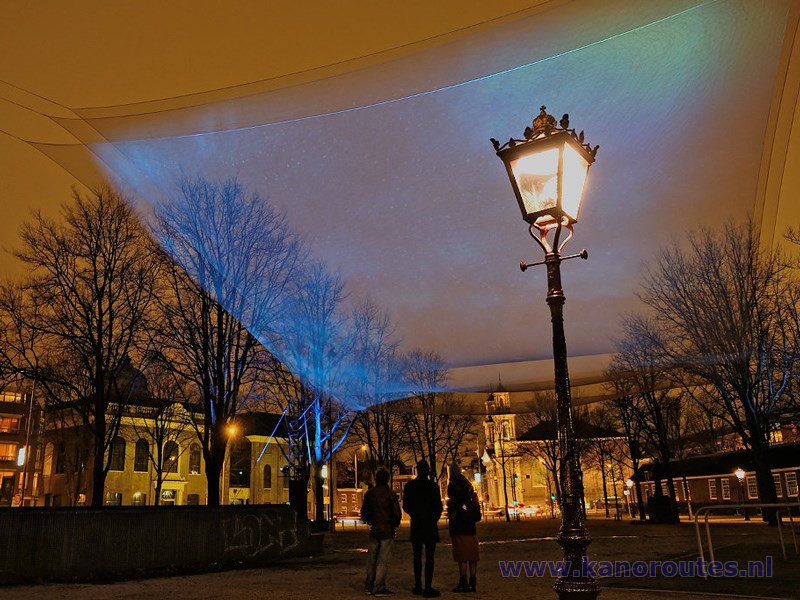 "Light matters" by ACTLD (Belgium).
Light is projected on three tranparant screens. It changes colours and shapes. It made me think of the northern light.
"The life of a slime mold" by Nicole Banowetz (USA).
Inflatable sculpture representing a micro-organism. In changes in colour.
The life of a slime mold reflected in the shopwindow of KRFL with some kind of unicorn giraffe.
It's not part of the Lightfestifal, but just something that struck my attention.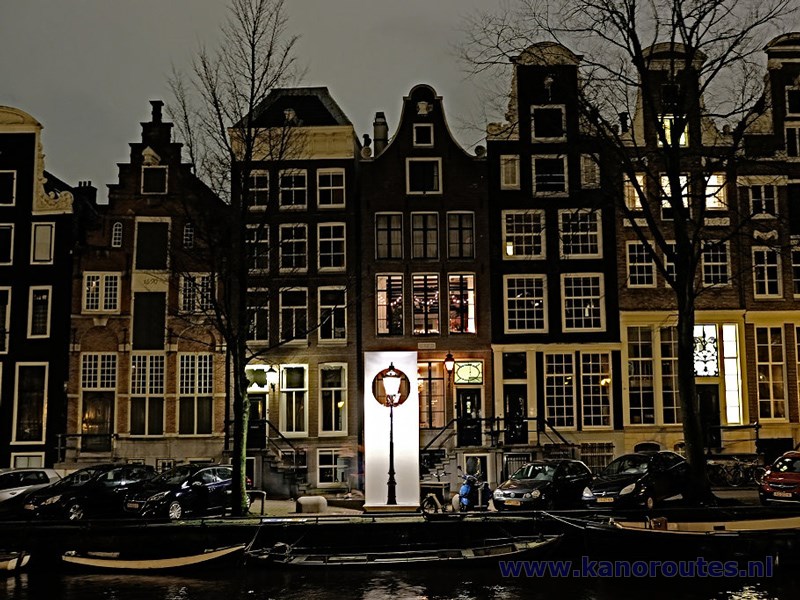 "Lighten the light" by HOH architects (NL).
The only art-work without light. It uses a regular street lantern.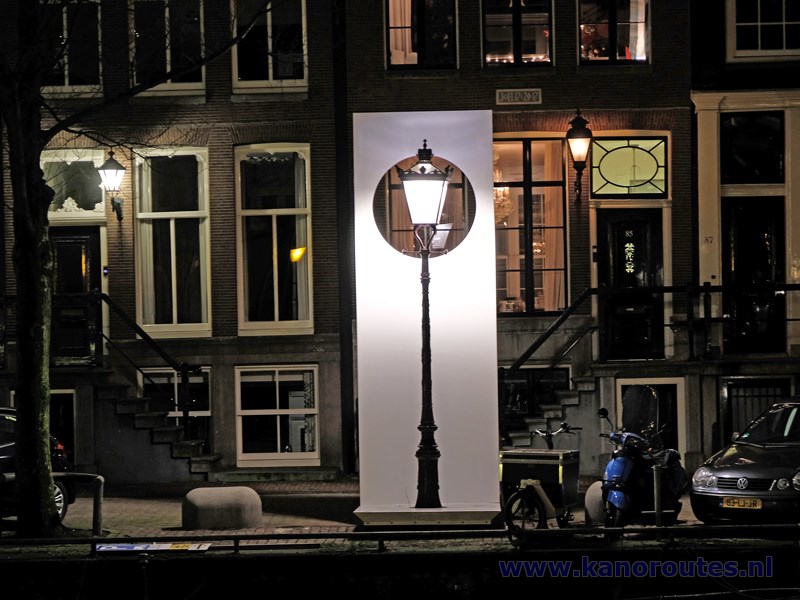 Close-up of the street lantern.
November 2017

Kortenhoef I drew a new map that also shows the lake Wijde Blik.
The Loenderveensche Plas is a bird reservation closed for all vessels including kayaks. But on the south side of the Wijde Blik there is a kayak pier where you can have a look over the lake from the nearby observation tower.
October 2017

Winsum The page has been updated with a new route, a new map and new photos.
September 2017

Westland I updated the page with waypoints. The map is extended to the north. New route around poeldijk with a new starting point at kayak club De Windhappers.
June 2017

Strépy-Thieu In the Belgian Hainaut I kayaked on the Canal du Centre and passed the boat-lifts.
Gouwe A new route in a not so well-known part of West-Friesland around Abbekerk. This area connects the north of Noord-Holland (Kolhorn) to the eastern part (Medemblik - Enkhuizen).
Wormer I found a new starting point on the north side of the Wormer at the locks Jispersluis. It is a nice quiet spot with a picnic table. There's plenty of room to park cars. I made a trip of 17.8 km and visited kayak center Arjan Bloem. Also I enjoyed a nice cup of coffee on the teerace of De Hofjes. The new GPS-track is on the site. And of course there are many new photo's.
May 2017

Den Helder I made a trip from Mariëndal to the Naval Museum and made some newe photo's for the site.
Hunze A new page about a round trip of 18 km. in the north of the province Drenthe.
April 2017

Apeldoorns Kanaal at Hattem The route has been updated. There are new kayak piers. But portage to the Wetering near Wapenveld is almost impossible now.
Egmond A new page about the route from Alkmaar to the Abbey of Egmond-Binnen and Egmond aan de Hoef.
Eilandspolder: Opening of the new system with numbered poles on April 2.

In de Eilandspolder a new route system with numbered poles was made. Also the routes got new coloured markers. New facilities like a new kayak pier in the center of De Rijp, and kayak piers at the locks in West-Graftdijk will be made. After the breeding season new kayak piers will be made in the polder. The opening festifal was on April 2 in Graft where the first numbered pole was reveiled.