There is hardly any current on the rivers Korne and Linge. So you can easily navigate in both directions. The area is well-known for the fruit-trees. They are in blossom in April. If you want to see these I can recommend to head west from Geldermalsen to for example Enspijk.
Distances:

Geldermalsen to Buren 5.0 km
Geldermalsen to Enspijk 8.0 km.
From Geldermalsen passed Buren to the Amsterdam-Rijnkanaal: 10.2 km.
From Geldermalsen to the Amsterdam-Rijnkanaal near Keilen: 18.0 km.
Round trip on the Linge, Korne and Maurikse Wetering 24.4 km. + 4.2 km on the road along the Amsterdam-Rijnkanaal.
Kayak rentals:
To the starting point Geldermalsen
You take the N833 between Geldermalsen and Culemborg. On the south side of the bridge across the Linge you leave the main road at the roundabout on the Kostverlorenkade. On your left is a parking place. In the corner you find the kayak-pier.
From Geldermalsen to Enspijk
In Enspijk there is a floating pier where you can go to the side. It's a nice place to rest on the dike. At this location you also find teagarden
Theetuin De Fruithoeve
.
From Geldermalsen to Buren and back is 10 km.
It is a nice short trip to the old town Buren. From Geldermalsen go east and after a short while turn left into the side-river Korne. This is the only side-river of the Linge. Very worthwhile taking a look. At Buren you see the old city-wall on your left. At the second bridge there is a place on your left where you can go ashore. It is very nice to take a walk through the town and see the orphanage (weeshuis). This is where the military police museum is located.
Round trip from the Amsterdam-Rijnkanaal near Keilen passed Buren and to the Amsterdam-Rijnkanaal (24.4 km)
If you don't mind walking an extra 4.2 km back to the starting point, you can make a round trip.
I never did this, but I checked out the locations where you can start/end your kayak trip. I've been upstream towards Tiel a long time ago. I know there are 2 weirs, but there are good kayak piers.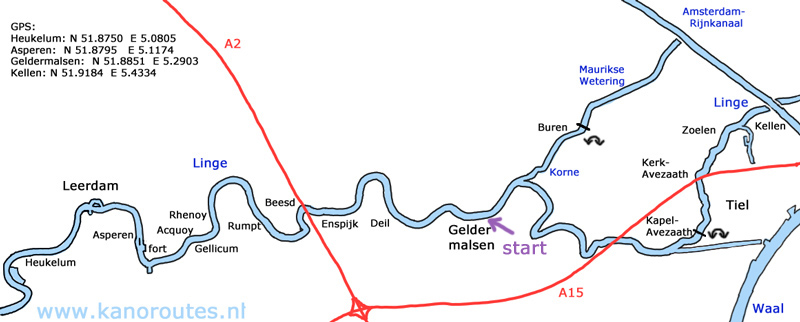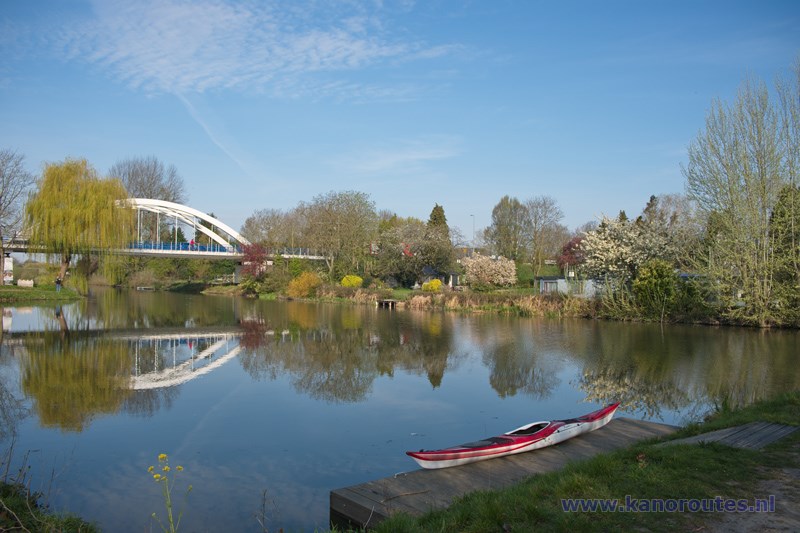 Kayak pier in Geldermalsen. There's free parking here.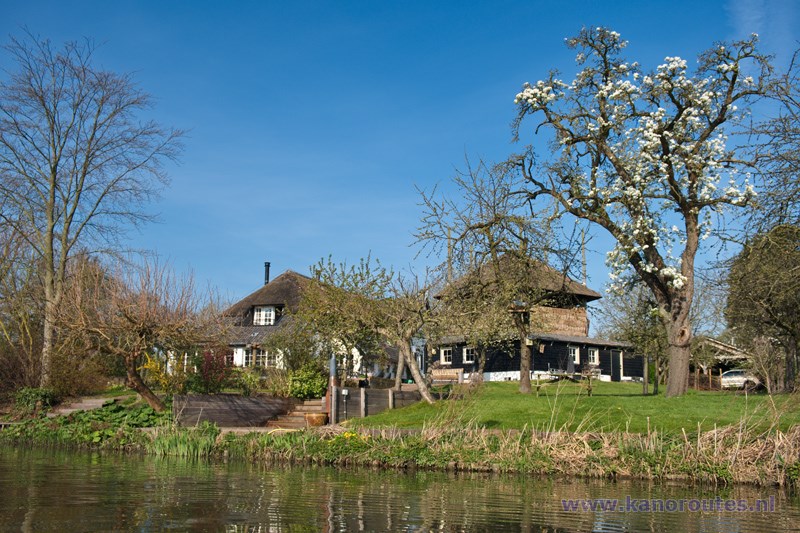 Korne.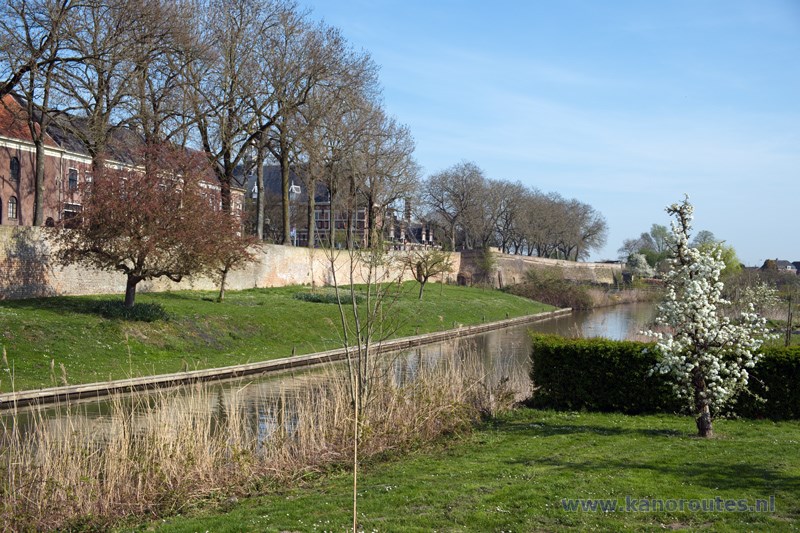 Buren.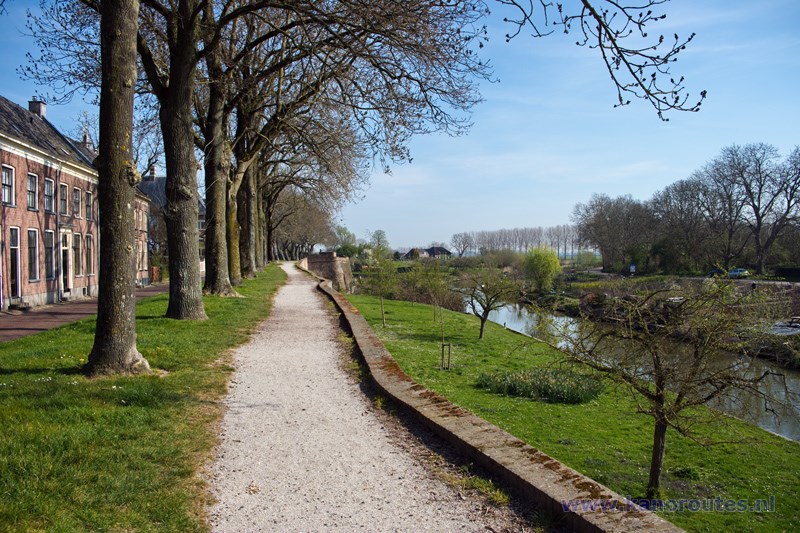 On the city wall of Buren.
Linge near Deil.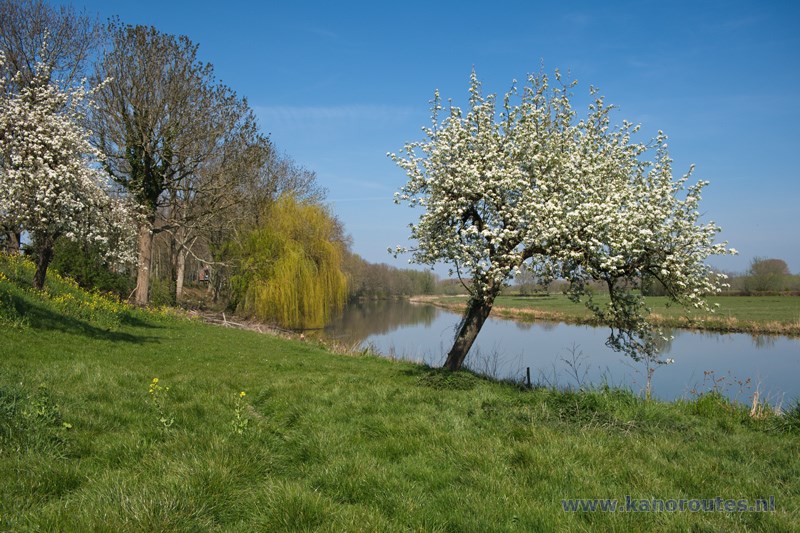 Linge near Enspijk. There is a floating pier.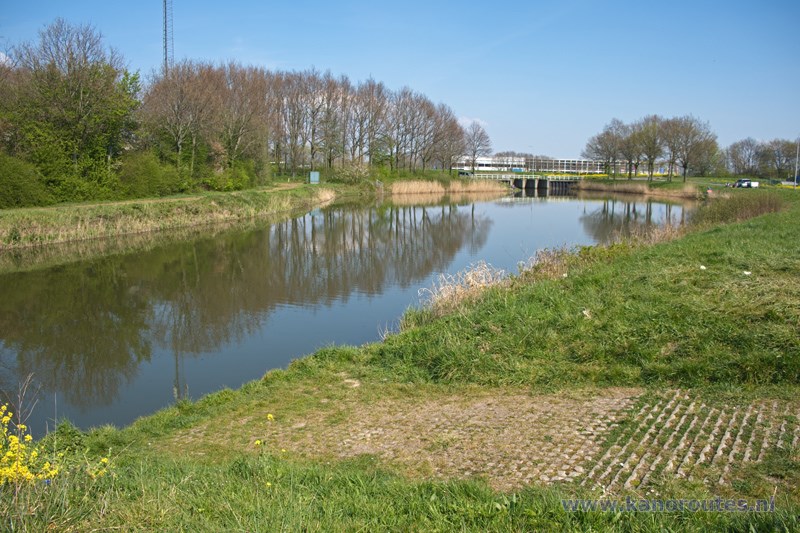 End of the Linge at the Amsterdam-Rijnkanaal. There is a boatramp with a low side.
End of the Korne at the Amsterdam-Rijnkanaal. There are no facilities. At the meadow there is a low side.
The gate was open. According to a sign on the gate the land belongs to the water authority Waterschap Rivierenland. I think it's okay to use it for access to the river.