Round trip of 14.1 km (no portages) or 16.3 km (3 portages)
Kayak rentals and camping: Camping Spijkerboor te Zevenhuizen.
The Kagerplassen is an area with lots of watersport activities. It can be rather crowded on the water, especially around the village Kaag. On the lakes Dieperpoel and Norremeer (west of Kaag) there is no speed limit, so you have to be extra careful there.
Starting point at the boat ramp on the Haarlemmer Ringvaart near Huigsloot.
To get there you leave the A4 (Amsterdam - The Hague) in the direction Leimuiden. Take the N207 and turn right at the first traffic lights. You follow the road along the canal passing Weteringbrug and Vredeburg. At the next intersection there is a small parking space on your right. The boat ramp is on your left.
From the starting point you go west and turn left at Huigsloot. Keep going straight on following the Ade. You pass the lakes Kleipoel and Koppoel following the right side. For the trip of 14.1 km. you trun right on the Zomersloot. After the bridge you trun left, and right again. At the T-junction you turn left to the lake Vennemeer. Keep right and follow the Zijp towards the Kager Plassen. You pass a small harbour and keep to the right of the lake. You pass the campsite at Zevenhuizen and follow the side of the lake to the north. Then you turn sharp right on the Spijkerboor. Ahead you see an island with trees. This is private property. You turn right on the Diepenbroek. At the end of the lake you turn left towards a larger lake. follow the right side and turn right to the Boerenbuurt. At the T-junction you turn left. Then you turn right towards the Hanepoel. You cross a small lake and follow the narrow canal. At the end you turn left and you see the starting point straight ahead.
For a larger trip of 16.3 km. you cross the lake Koppoel and pass Rijpwetering. There are several bridges and two of them are too low to go under. It is easy to go to the side here for a portage. At the end of the village you turn right into the Akkersloot. At the end you turn left. After the bend you come at very low footbridge where you have to go out again. Follow the Vaarsloot and turn right into the Stingsloot. At the lake Vennemeer you turn left on the Zijp. At the Kager Plassen you follow hte route as mentined above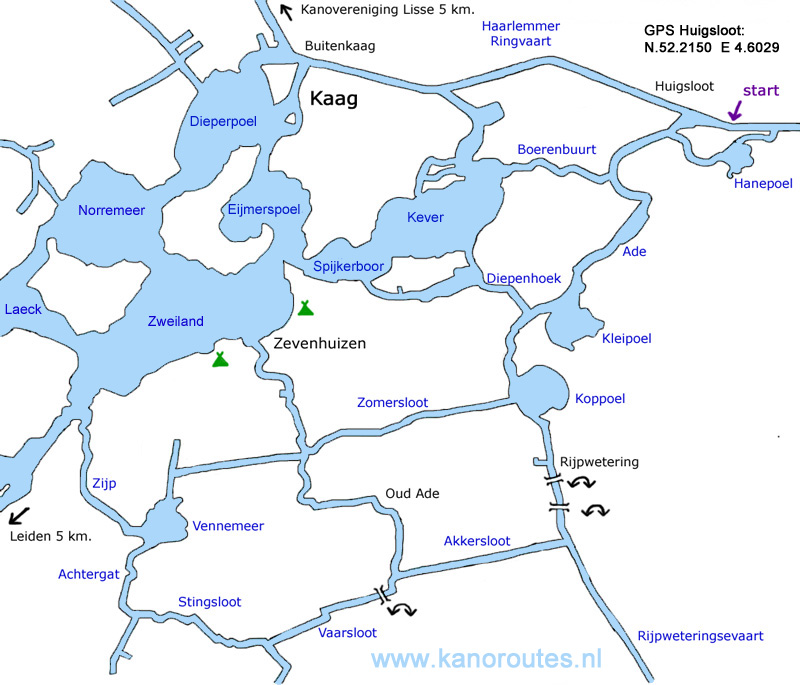 GPS: Lat. 52.2150, Lon. 4.6029.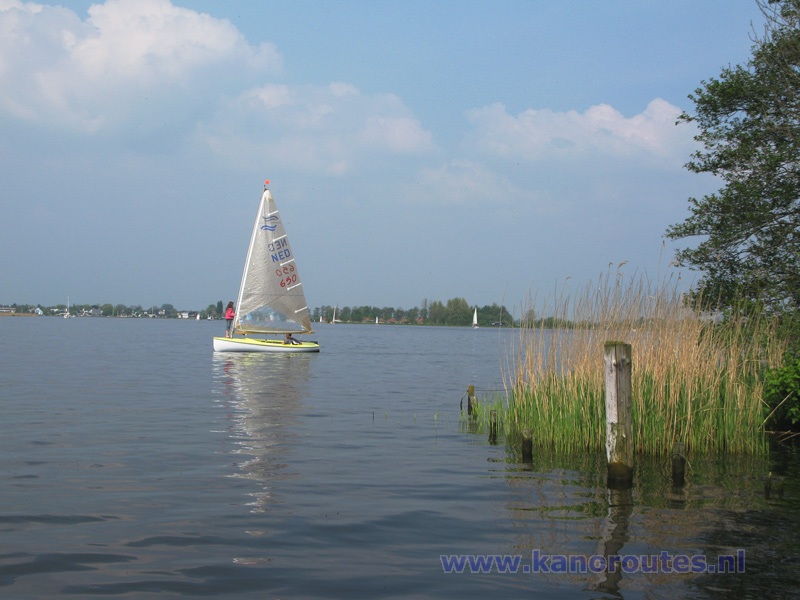 Zweiland.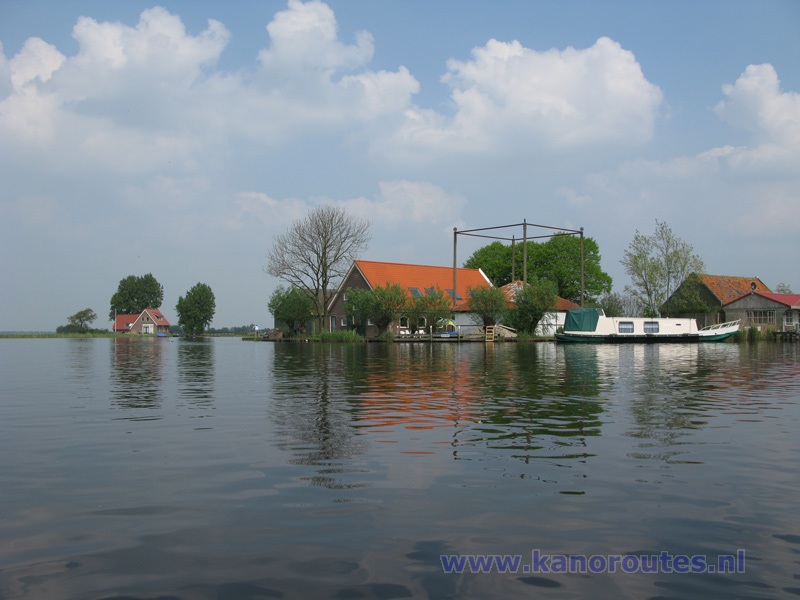 Ade.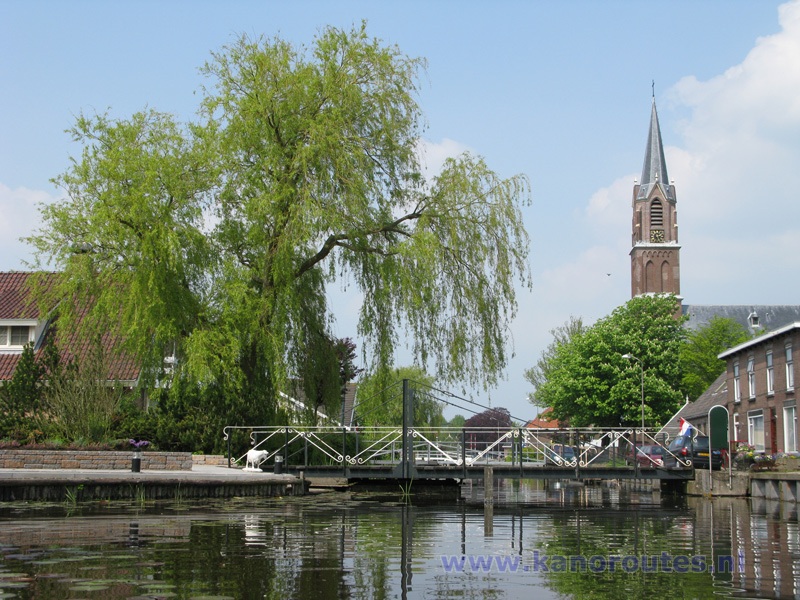 Rijpwetering.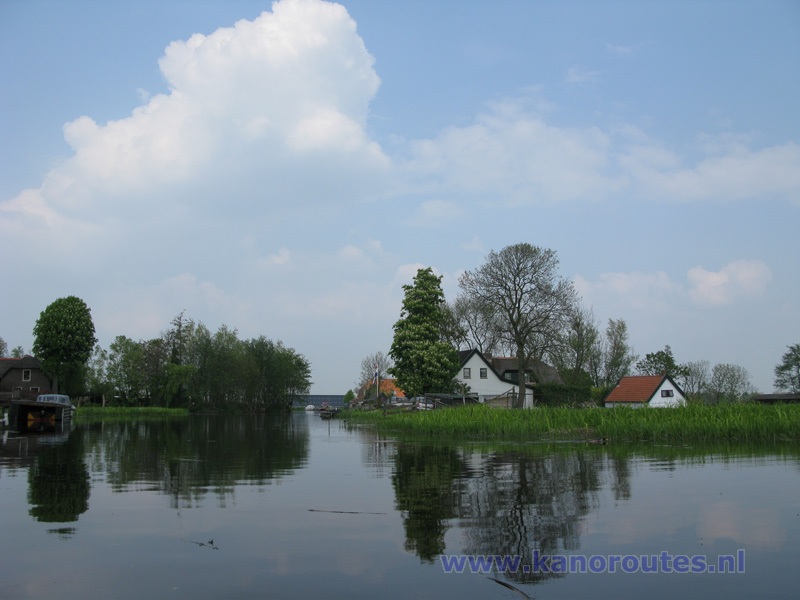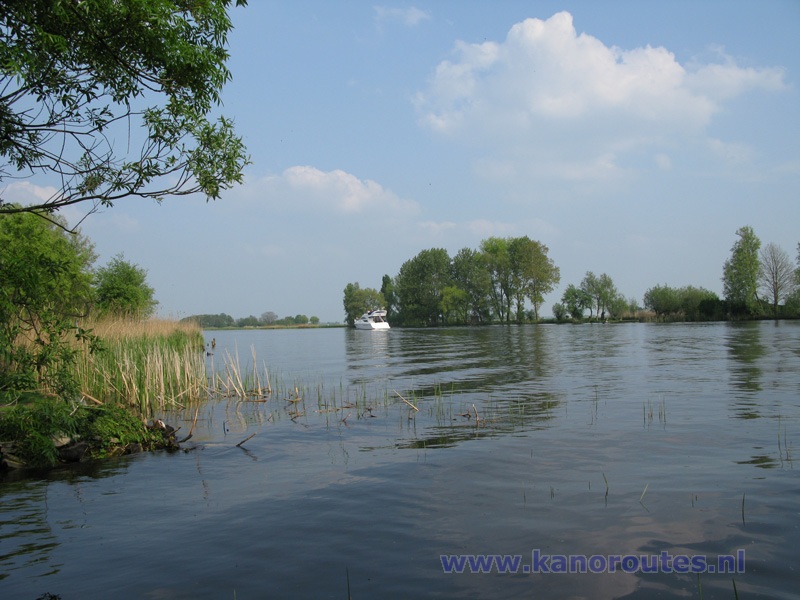 Diepenhoek.