A round trip between the Weerribben and the Wieden starting in Wetering (14 km).
Kayak rentals in Kalenberg:
Pieter Jongschaap
, Kalenbergerpad 4, 8377 HL Kalenberg. (tel. 0561-477527).
To the starting point:
Leave the N333 between Emmeloord and Steenwijk in the direction Scheerwolde. Keep going straight on passing the village. Just before the bridge you turn right and that's where the startingpoint is. There are low sides so it is easy to step into the kayak here. Also there is a picnic table.
Round trip of 14 km:
You head south under the bridge. On your right you see
Camping De Wilgenhof
. After you passed the side-canal towards Steenwijk you pass the village Muggenbeet. There is a restaurant with a terrace directly along the waterside:
Hotel Café Restaurant Geertien
. In the village is
Camping Muggenbeet
. You go straight on until you come at the lake Giethoornse Meer. Turn right and follow the shallow water along the side. You enter a wide canal that leads towards Blokzijl. After a bend to the left you take the second canal to the right. You go straight on and pass the village Nederland. After this village you enter the Weerribben. On your right there is a bird reserve with a watch tower. You keep going straight on until after a bridge you come at a main canal, the Kalenberger Gracht. The village Kalenberg is only a short distance to the left. You go straight on and after a short distance you tur right into a narrow canal. Then you turn left and keep going straight on until you come at a small lake, the Diepe Wiede. You go around the peninsula and you see a bridge on your left. Here it is possible to swim. Under the bridge you return on the main canal. You turn right and follow the sharp bend to the right. The canal is named Wetering from here. You follow the canal and you pass a terrace along the canal where you can eat pancakes "
An't Waeter
". After some time you see the starting point near the bridge of Wetering.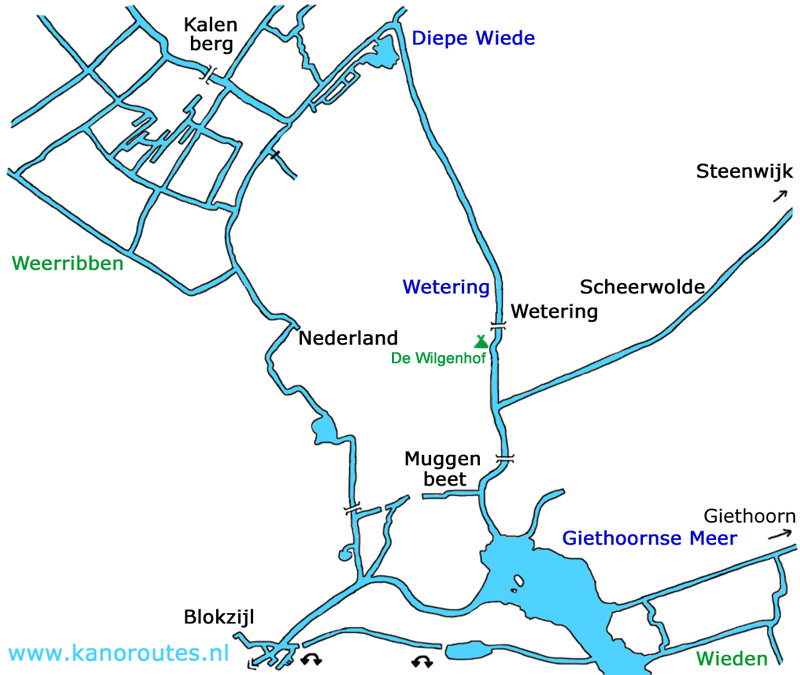 GPS startpoint at the bridge of Wetering: Lat. 52.7546, Lon. 5.9959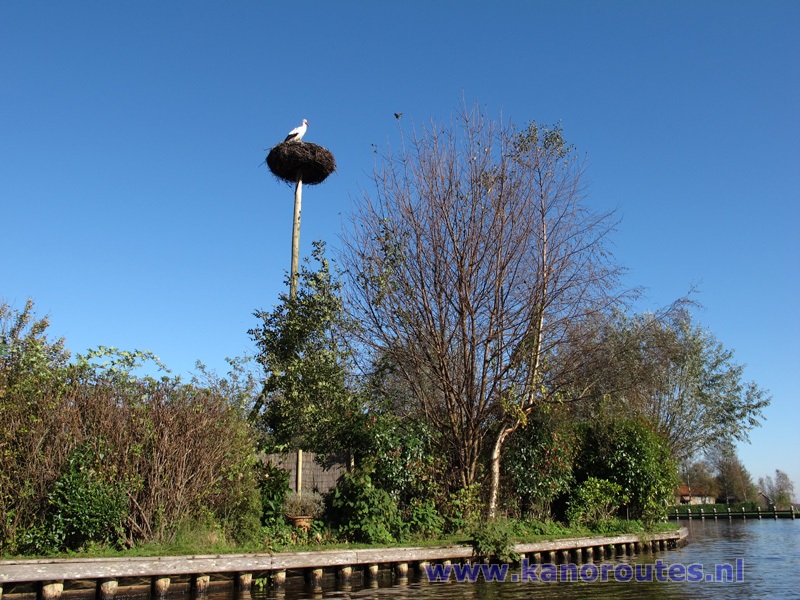 Stork nest at Wetering.
View from the island in the Giethoornse Meer. There is a pier on the north side of the island and ther's a small field where you can enter the island. Most of it is mud and quicksand though.
Locks in Blokzijl.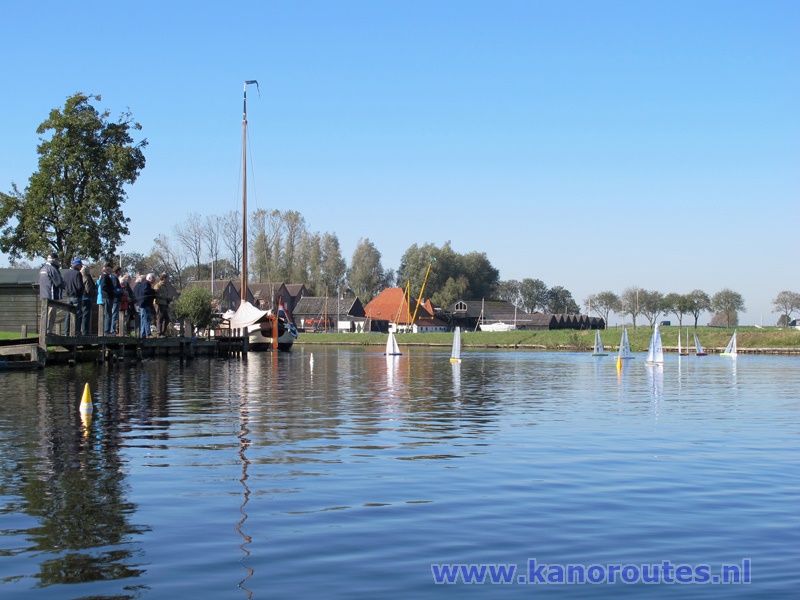 Model sailboat race at Blokzijl.
Storks in Nederland.
Nederland.