A round trip of 25 km. with 3 portages.
Kayak rentals:
Pet shop
Numan
, Voorstraat 94, 9291 CM Kollum.
Also have a look at the aquariums and the former prison cells...
To the starting point:
From Leeuwarden you go east on the N355. Just before Buitenpost there's a roundabout where you turn left on the N358 towards Lauwersoog. Then at the third roundabout (there is a Texaco fuel station and a restaurant) you turn right towards Kollum on the Van Limburg Stirumweg. Keep going straight on. Further on the road is named Tochmalaan and later Willem Loreweg. After a bridge the road bend to the left. The starting point is at the next bridge. Between the bridge of the main road and the bridge of the bike road there is a good spot to launch the kayak.
From the starting point between the bridges you turn right. After a short distance you come at locks. They have no purpose, and usually they are slightly open. Not enough to pass through with the kayak. If you can't pass through you'll have to carry the kayak passed the locks. At the next intersection you turn left. Then you come at a Y-junction, where you keep right. You follow the main canal through the center of Kollum. After the village you turn left at the end of the canal and then right again. You'r now back on the main canal the Stroobossertrekvaart. Follow the straight canal 4.1 km. Just before you come at the Van Starkenborghkanaal you see a factory with grey buidings. You turn left just before the factory. You pass Geskesklooster. After a railroad bridge the canal bends to the right. Keep on the main canal. Now the canal is the border between the provinces Friesland (on your left) and Groningen (on your right). You pass Visvliet and you keep going straight on. After a bridge outside the village you turn left. At the side-canal towards Burum you go straight on. About 1 km further you turn left on the next side canal. This is the Keegensterried. After the first bend you come at a wier with iron valves. You have to carry the kayak passed it. The Keegensterried meanders through the landscape for about 8 km. You keep on the main canal and pass a group of satellite dishes. At a junction you turn left (to the right is a culvert). The next portage is at a pumping station. You have to carry the kayak across a narrow bridge. The gate on the other side can be opened. Launch the kayak on the other side of the pumping station and follow the main canal to the starting point.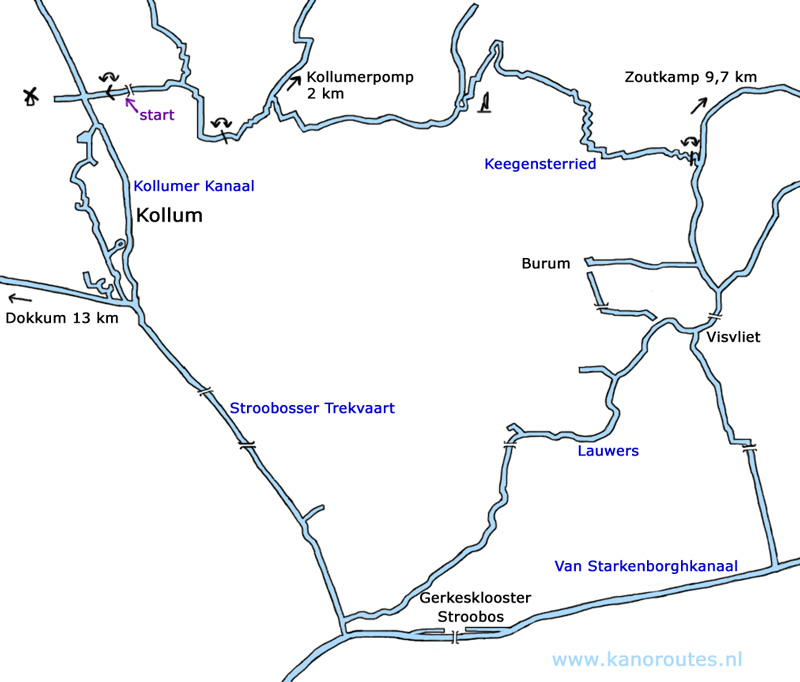 GPS Willem Loreweg: Lat. 52.2913, Lon. 6.1587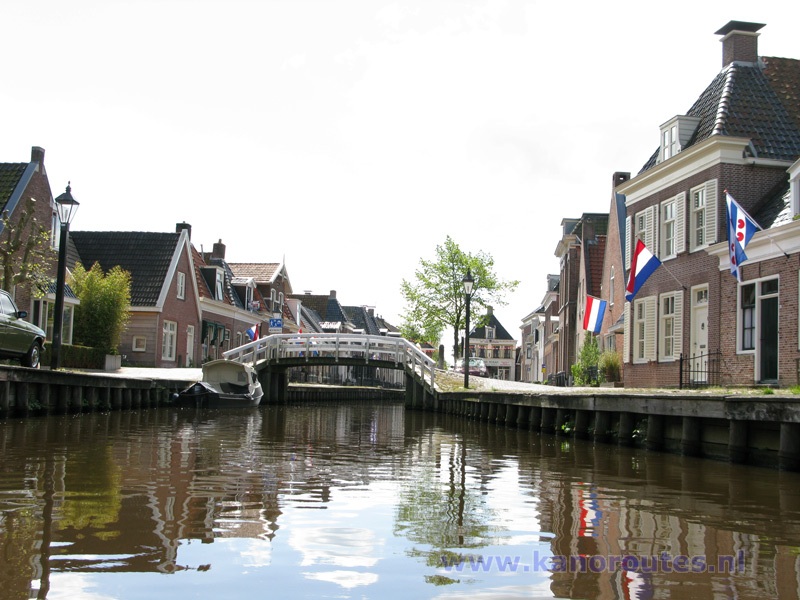 Kollum.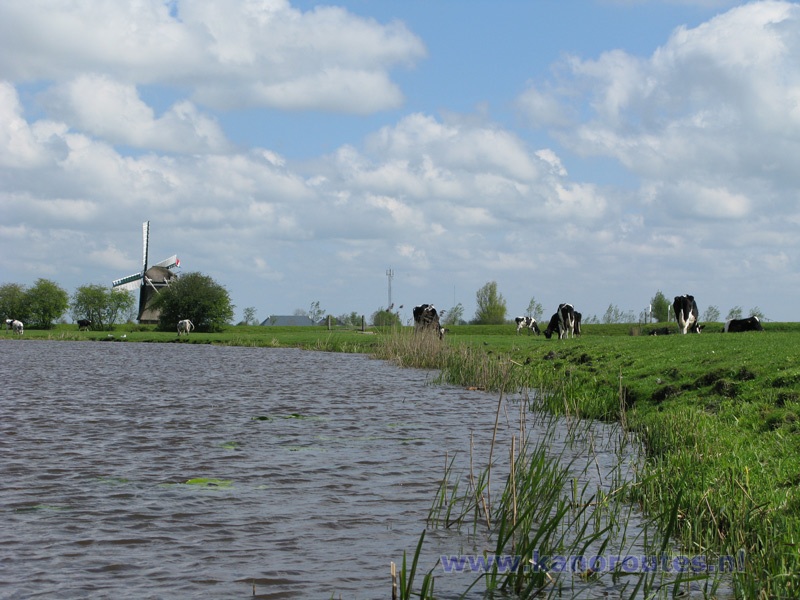 Lauwers.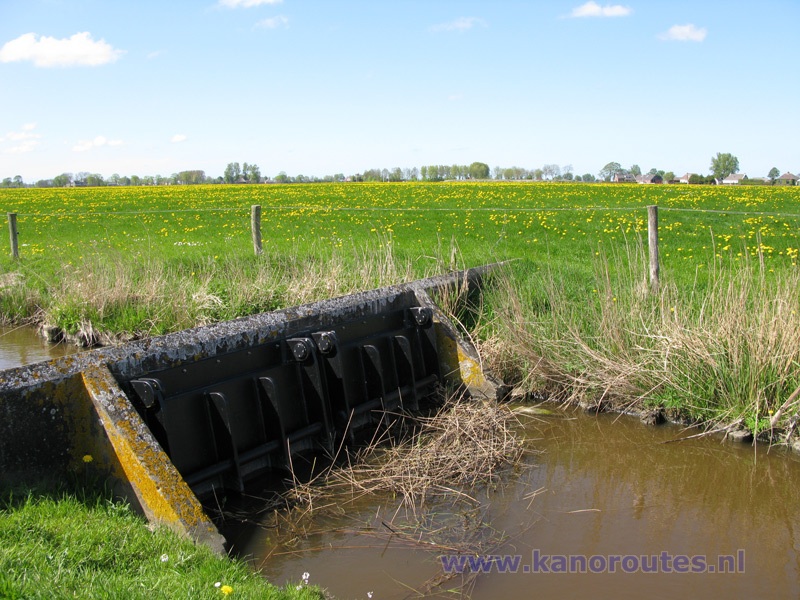 Portage at the Keegensterried.
Keegensterried.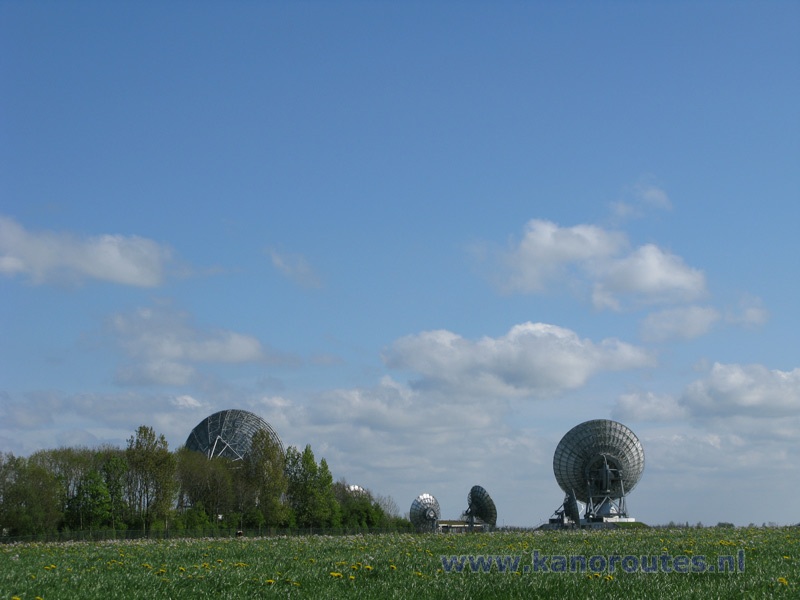 Satellite dishes along the Keegensterried.