The Macclesfield Canal is situated south-west of Manchester, it has a length of 44 km and there are 98 numbered bridges. At Kidsgrove it goes over an aqueduct before it connects to the Trent and Mersey Canal. It is devided by a group of 12 locks (Bosley Locks) into the Lower Pond to the south and the Upper Pond to the north. At Marple it connects to the Peak Forest Canal. From the canal you have some beautiful views on the hills and the plains.
History
The Macclesfield Canal was among the last ones to be built. It was opened in 1831 and commercially used until the 1960's. It was made to transport the goods from the cotton and silk mills along the routes as well as the the mines and quarries. To compete with the railroads 6 snake-bridges were made. The special structure made it possible to move the horse that towed the boat to the towpath on the other side of the canal without having to untie it from the boat. The canal is rather shallow at the sides. The canal was designed for boats to moor only at the wharves. Thanks to the effords by a local cruising club the canal remained navigatable after commercial use had stopped. To-day the Macclesfield canal is a beautiful part of the popular Cheshire Ring. It is among the highest navigatable levels in Great Britain with some beautiful views over the Cheshire plains. It is also popular by walkers. The tow-path can be used by cyclists if you're willing to drive slowly, because the path is rather narrow, bumpy and muddy at some places after rainfall. For cyclists the dismantled railroad between Bollington and Marple, the Middlewoon Way, runs parallel to the canal and forms an interesting alternative route.
Starting points:

Marple Junction. You can park in Church Street. Don't use the private parking place behind the Ring O' Bell. It's meant for visitors only.
Higher Poynton along the Middlewood Way near bridge 15. You can park at Lyme Road near the canal.
Bullocks Lane near bridge 44 just south of Macclesfield. There's room for only a few cars.
Just south of Bosley Locks (bridge 61) at Peover Lane. This is a side-road of Buxton Rd. (A54) along the canal.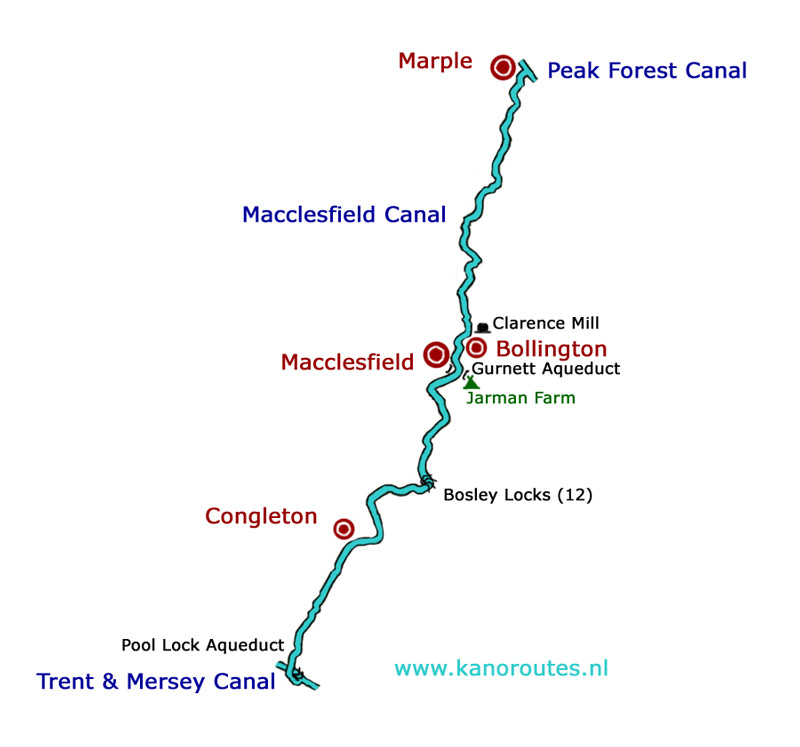 GPS marple Junction: Lat. 53.3924 Lon. -2.0611
GPS Higher Poynton (brug 15): Lat. 53.3460 Lon. -2.0842
GPS Bullocks Lane (brug 44): Lat. 53.2406 Lon. -2.1161
GPS Bosley Locks (brug 61): Lat. 53.1828 Lon. -2.1662

View near Congleton (bridge 72).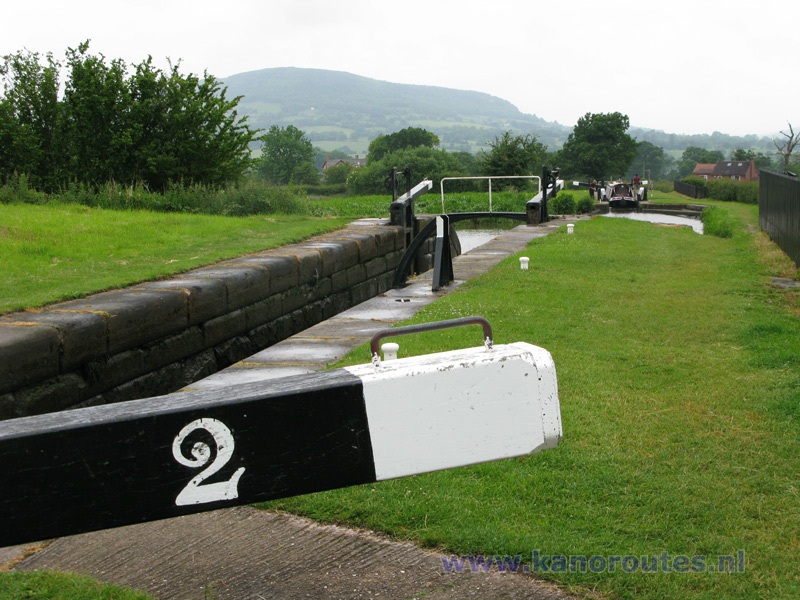 Bosley Locks: 12 locks in a row. For narrowboats it takes 2 hours to pass them all.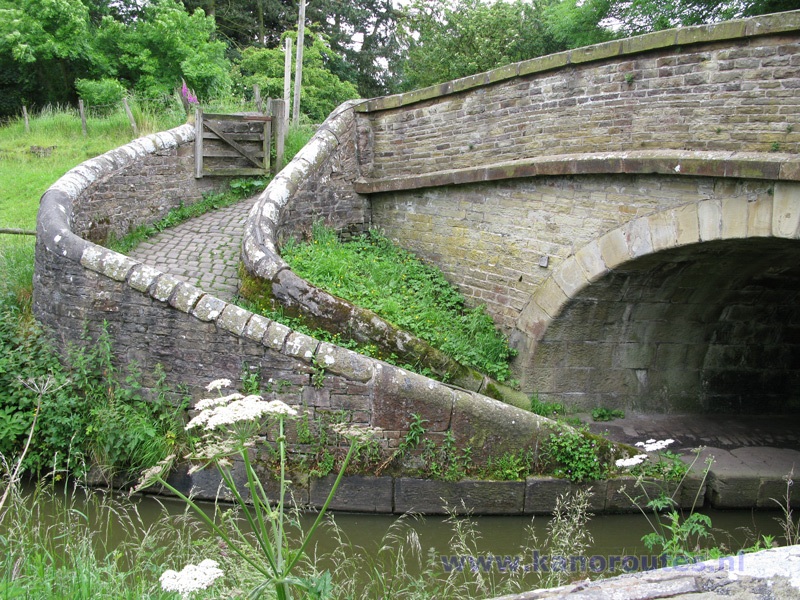 A so called snake bridge (29).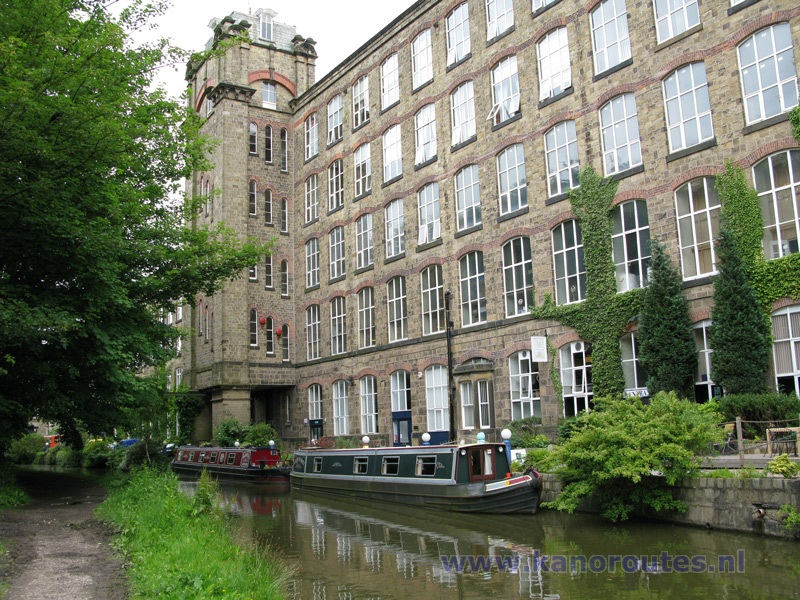 Clarence Mill near Bollington.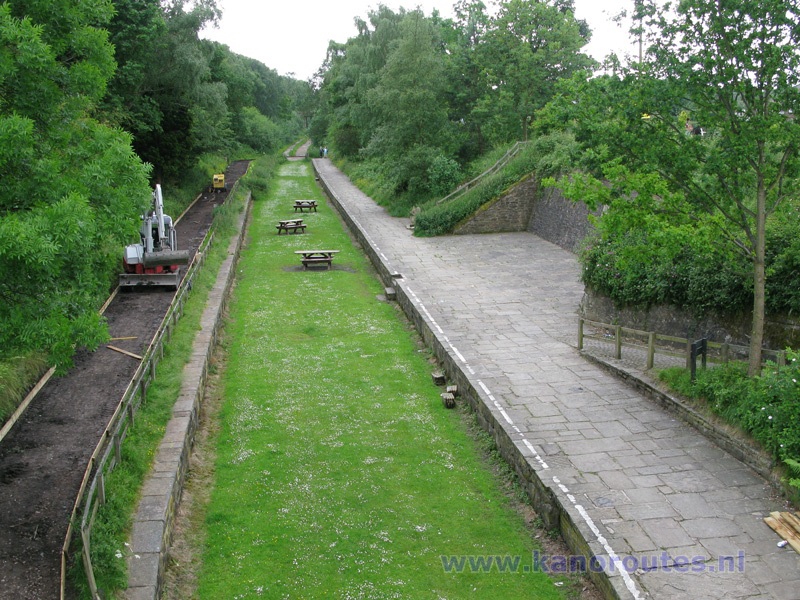 Middlewood Way, a dismanteld railroad that runned between Bollington and Marple. Higher Poynton Station.
Common Barn Farm at Rainow, near Macclesfield. Recommended bed-and breakfast accomodation. Also camping and self catering cottages