Between Paris and Bordeaux, more precicely: between Niort and La Rochelle are the marshes Marais Poitevin. This area is also called Green Venice (Venice Verte). Hardly discovered by tourists this is a beautiful area for kayaking. In the summer of 2001 I drove to the campsite of Lidon, situated on the canal Mignon and on the edge of the Marais Sauvage (rough marshes). This is part of the Marais Mouilles (wet marshes), an area of 16500 hectares still liable to flooding by the rivers Sevre Niortaise, Vendee, the Lay and some minor streams.
History
Until 5.3 to 1.6 million years ago (Jurassic era) the area was a plain just above sea-level. Afterwards the area became flooded until 1000 AD. Then the water withdrew and the first human settlers entered the area. In the 4th century monks built abbeys on the banks and islands, but it lasted until 1200 when they started digging canals to enable them to use the land better. Today in the wet marshes there are numerous canals. More to the west are the dry marshes, polders with controlled water-levels. The area is covered with many fossils proving that once early sea-life florished here. More detailed information about the area and its history can be found at www.bjr-tourisme.com/marsh.html.
Layak rentals and camping:
Camping le Lidon
, Lieu-dit "Lidon", 79210 Saint-Hilaire-La-Palud.
How to get there:
It was just over 1000 km from Amsterdam and it can be done in one day. You exit the A10 (E5) after Niort at exit 33. Go straight on following the N248 and turn right at Epannes towards Sansais. When you come at the main road D3 in Sansias turn left. After the village St.Hilaire la Palud there is a statue on the right. Here you turn right towards La Roche. From here there are signs leading you to the campsite Camping Lidon-sur-Mignon. Here you can camp along a small meandering canal leading into the marshes. There is a small swimming-pool at the camp-site. Meals are available. Kayaks are for rent almost next to the camp-site.
Detailed maps are available at the Tourist Information (closed on Monday) and at the tabac-store in St.Hilaire. Série Bleue nrs 1428E and 15280. This map is very handy for a kayak trip into the swamps. Every canal has its own name and all intersections of canals are marked with a number and the poles with the signs also mention the name of the canal.
GPS Camping le Lidon: Lat. 46.2838 Lon. -0.7433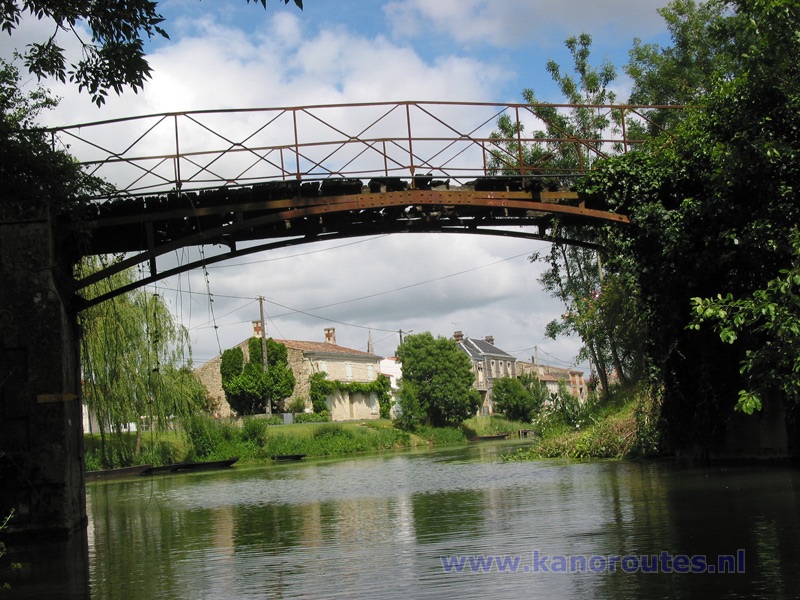 La Sevre Niortaise near Damvix.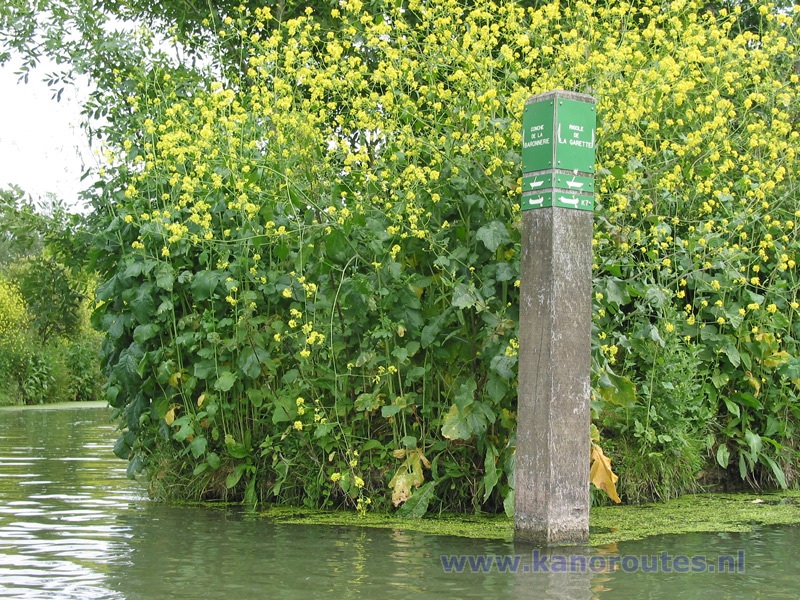 Junction K7: Rigole de la Garette and Conche de la Baronnerie.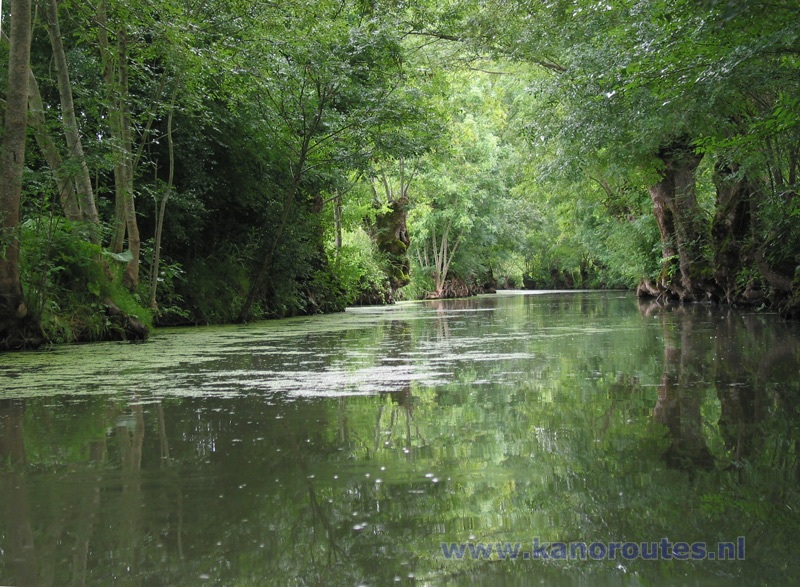 Ecluseau des Bourgeons.