Although the Linge is a river, there is hardly any current. You'll have no problem paddling both directions.
From Heukelum to Gorinchem and back 2 x 13 km = 26 km.
From Heukelum to Fortress Asperen and back 2 x 4,8 km = 9,6 km.
From Geldermalsen to Buren and back 2 x 4 km = 8 km.
from Geldermalsen to Rumpt and back 2 x 14 km = 28 km.
Kayak rentals:

Geldermalsen, Enspijk and Leerdam: "De Betuwse Stromen". In Geldermalsen at the bridge in the center. Tel.: 0345-651269. Private parking for customers only. It is advisable to make a reservation in the high season.
Heukelum: De Appelgaard Bloesemhof 12, 4161 BA Heukelum. Tel.: 0345-631326.
Tiel: Camping "Aan de Linge", Lingeweg 18b, 4006 MA Tiel. Tel.: 0344-661236.
Starting point Heukelum:
In Leerdam it is not possble to bring your car anywhere near te riverside at a suitable location to launch the kayak. The nearest starting point is 2 km away in Heukelum. From Leerdam head south on th N848. At the roundabout you turn right towards Heukelum. At the first houses you turn right on the Voorstraat. There is a small harbour on your right.
From Heukelum to Gorinchem and back 26 km.
From Heukelum you can paddle west to Gorinchem. It will take about 2.5 hours to get there. After the bridge of the A15 there is some industry on the sides. But the center of Gorinchem is very beautiful. There are nice shopping streets and several places to have a lunch. At the canal there are piers indicated as "boodschappensteiger" meaning you can use them for a short time to do shopping. Alleys connect them to the main shopping street.
From Heukelum to Fortress Asperen 9.6 km.
From Heukelum to the fortress Asperen is 4,8 km (1 hour). You pass Leerdam. There is a terrace along the river. In Asperen there is a pier at the fortress witch picknick tables just after you passed the locks. The fortress is open for public (closed on Mondays). In Asperen also is a good starting point at the Waterpoort. There is a park along the river with a low side where you can put a kayak into the water.
GPS Heukelum: Lat. 51.8750 Lon. 5.0805
GPS Asperen: Lat. 51.8795, Lon. 5.1174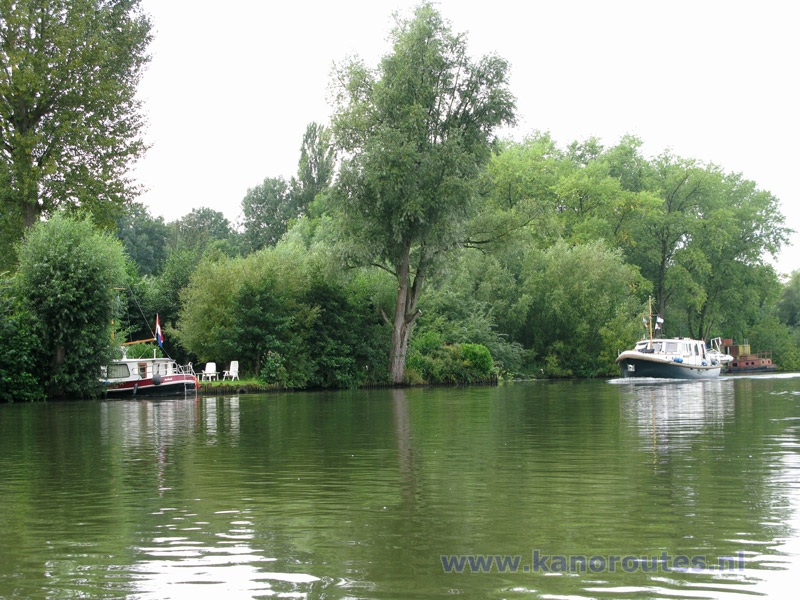 Linge at Heukelum.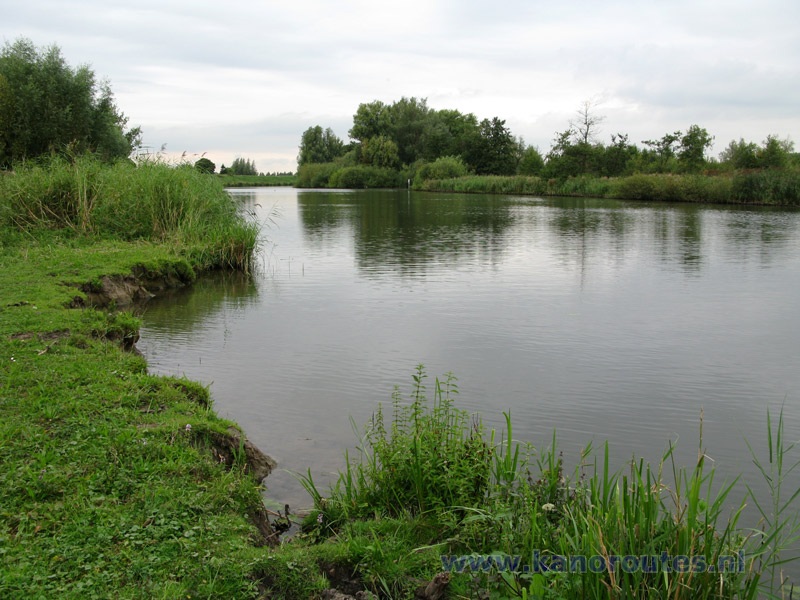 Linge at Heukelum.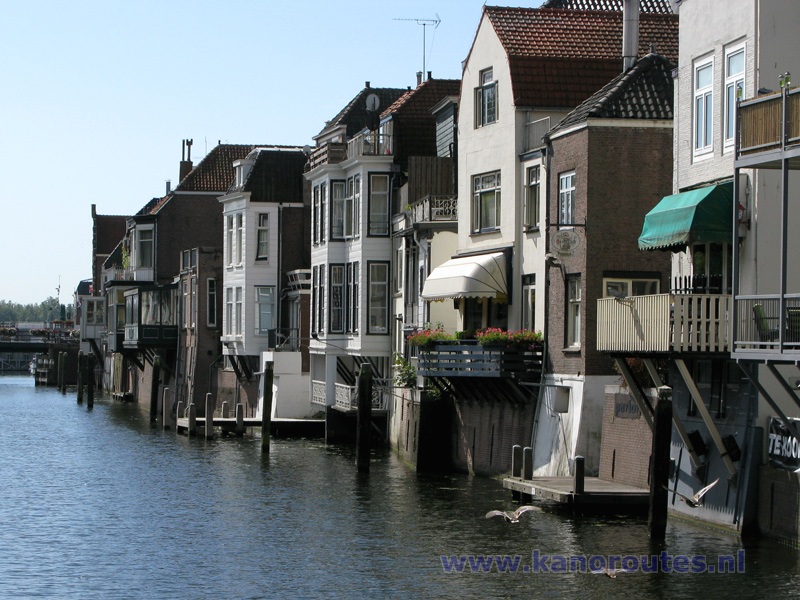 Gorinchem.
Gorinchem.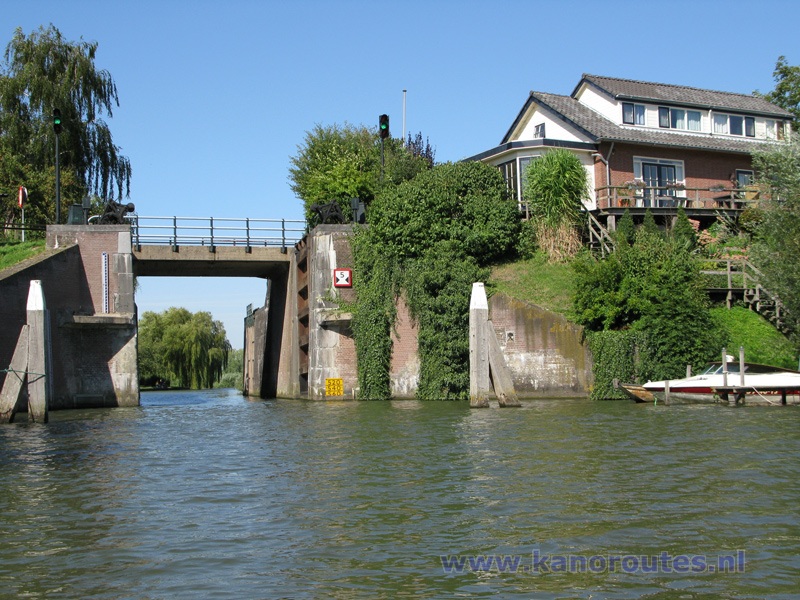 Locks at Asperen. They are usually open.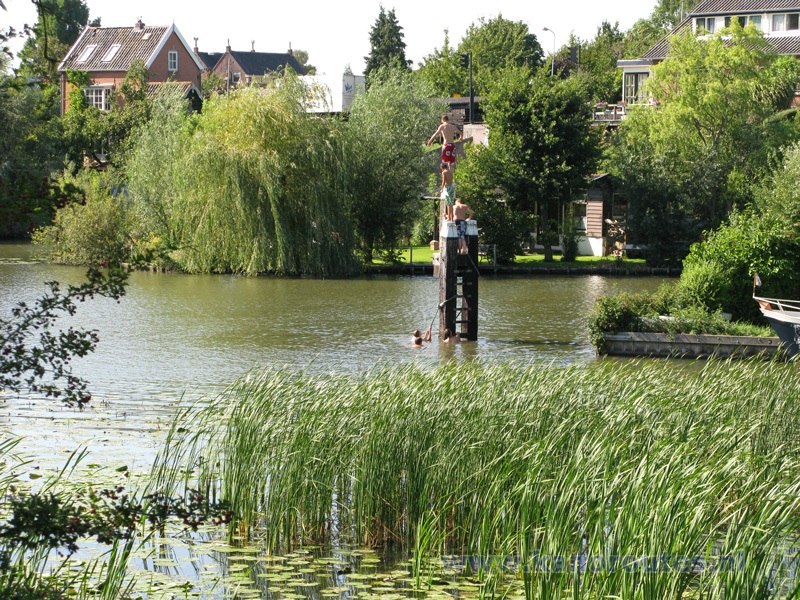 Asperen.
---
---
From Geldermalsen to Buren 8 km.
It is a nice short trip to the old town Buren. From Geldermalsen go east and after a short while turn left into the side-river Korne. This is the only side-river of the Linge. Very worthwhile taking a look. At Buren you see the old city-wall on your left. At the second bridge there is a place on your left where you can go ashore. From here you can go only a little further. Here you come at a barrage and there are no facilities to take the canoe to the other side. It is very nice to take a walk through the town and see the orphanage (weeshuis).
Kapel-Avezaath
Here is the only camp-side directly along the Linge: "In den Boomgaard". I went there to take a look. It is a nice camping, but too close to the high-way to my taste. You hear traffic-noise day and night. It is a nice trip to go there from Geldermalsen. When you come to the side-river Korne, keep to the right. There are two barrages on the way, but there are piers for kayaks. In between you come to a place where a log is made across the river to hold floating rubbish and plants. Here you also have to take the canoe out. There are no piers, but it is easy to go on the grass. When the river comes near the high-way just after the second barrage, you approach the camp-side.
From Gelermalsen to Rumpt 28 km.
This is a nice place to go for a day-trip from Geldermalsen. There are many big trees along the river and you pass several villages and some old estates. From Geldermalsen you go west underneath the railroad-bridge. You pass the villages Tricht, Deil, Enspijk and Beesd. Only at Beesd there is a pier for canoes, but it is right at the bridge where the high-way crosses the river, so very noisy. It is better to take a break at the ferry of Enspijk. On the north-side it is easy to take the canoe ashore. It is nice to take a walk in the woods here and stretch you legs. Just before Rumpt there is a small-side canal on your left. It is not going anywhere, but it is nice to paddle through the old locks (they are open) and take a look at the little white house on the dike.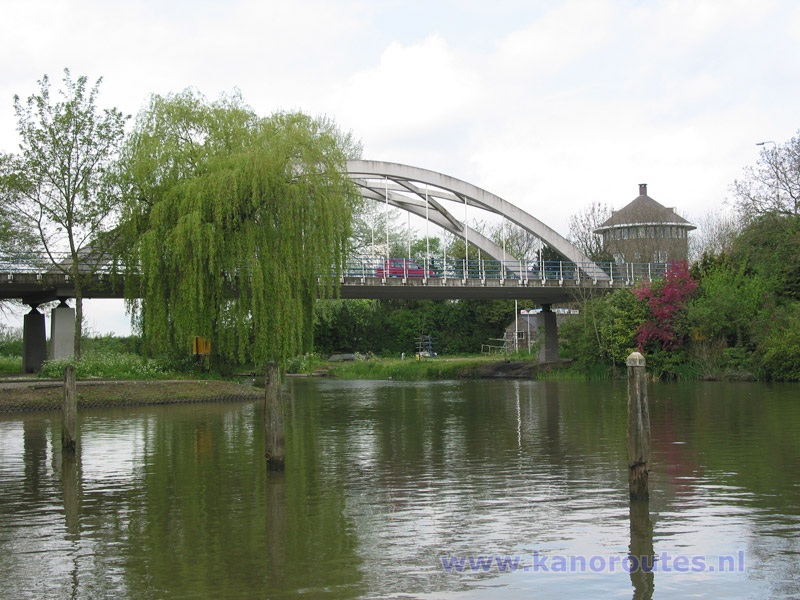 Starting point Geldermalsen.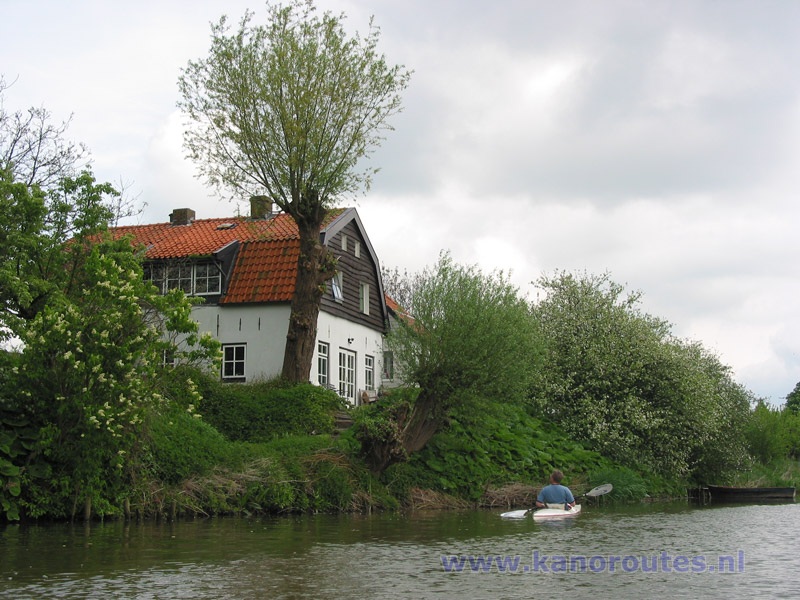 River Korne.
River Korne at Buren.
Apple blossoms.
Orchard along the Linge.